Case study – Woodfordes Brewery
Woodfordes Brewery began filling mini kegs in 2018. They purchased neutral mini kegs by the pallet load. Off sales at Woodfordes had been a small part of their business. Mini kegs proved to be profitable and in 2020 it was decided to take advantage of custom printing.
Woodfordes began with a mixed plate print run. You can order multiple designs within the minimum print run of 3120 +/- 10%. Mini kegs, unlike small cans, are printed on flat sheets of 6, before being cut and formed into the keg shape. You can view a video of the impressive production line here.
Woodfordes launched a generic mini keg, and fully branded their best selling and award winning 'Wherry' as well as their craft range '52 Degrees North'. Sales exceeded expectations and orders are now placed separately for each brand. The generic design is also used for their 'Norfolk Adder Cyder' that is supplied in mini keg.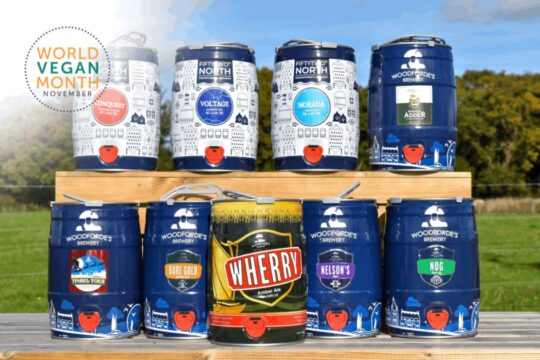 The mini kegs proved so popular via their shop and online sales that production needed to be streamlined and European Malt was asked for their recommendation for filling mini kegs.
European Malt has vast experience with mini keg filling machines. We began supply of mini kegs to the UK in 2000. When mini kegs entered multiple retailers there were a few different mini keg filling machines independently commissioned. Unfortunately, some worked better than others which resulted in some problems. We helped to solve those utilising the expertise of Envases head of quality! Since then, we wanted to make sure there is a consistent quality in filling mini kegs nationwide. The mini keg machines and bungers we supply are tried and tested so that you can expand sales quickly without risking supermarket returns.
Kombimat semi automatic mini keg filler
European Malt supplied many hand held fillers as an entry level option to achieve professional filling with a long shelf life. This has enabled customers to benefit from nationwide sales via their online shops. We can supply many options to suit your needs and budget. This ranges from a single head hand held filler to an 8 head semi automatic filler. Should budget allow there is also fully automatic rotary fillers available. An example is shown at the end of this video: Filling mini kegs – European Malt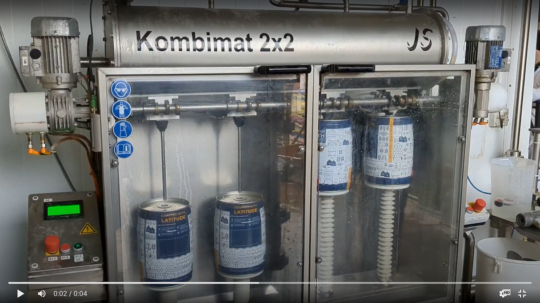 In 2021 European Malt supplied Woodfordes Brewery with their 4 head semi automatic 'Kombimat' mini keg filler manufacturer in Germany by JS Maschinen.
It consists of a pressure tank (filler bowl), pressure gauge/relief valve, sight glass, CO² or nitrogen inlet valve, product inlet valve, a drain cock, a float switch/valve connection for compressed air and a connection for CIP. The Kombimat is a long-tube filler for party kegs.
The complete machine and the filling heads are made out of stainless steel 1.4301.
A 4 head semi auto filler has a capacity to fill approximately 120 kegs per hour.
A semi automatic bunger was also supplied to ensure accurate bunging every time.
Servicing and parts are available via European Malt & JS Maschinen
Mini kegs  – The perfect off sales package for home delivery – Did you know, our 5 litre mini kegs are deposit return exempt?!