5 litre mini kegs have been popular in the UK for many years. Brewers find them an easy container to fill and sell without any large investment in equipment required. Micro breweries and cider makers are now upgrading to colourful and innovative custom printed mini kegs for the draught take home market.
Since the lockdown in March the UK has seen a huge increase in demand because the pubs had to close and the public still had a thirst for their favourite real ales and craft beers.
The mini keg offers the opportunity for consumers to replicate the pub experience at home. Huber mini kegs enable draught pour from it's integrated pull and turn and non drip tap.
In the UK and Ireland smaller breweries can start supplying mini kegs with a commitment to as little as 1 pallet of 210 and European Malt offers 3 generic designs to choose from.
Not only have new breweries started to stock mini kegs for sale via socially distanced 'drive through' pick ups from their breweries and brewery bars but also there is a new route to market offered with online sales and home deliveries. Many have set up online ordering and deliveries for the first time this year!
Not all breweries can supply via the supermarkets and many do not have the economies of scale for supermarket sales to be profitable therefore the microbreweries have needed to innovate quickly and the mini keg is the perfect package to supply 5 litres of fresh beer to the public. Some have concentrated on their local areas whereas others breweries have expanded to offer delivery nationwide.
The success of the mini keg is dependent on the promotional activity from the brewery sales team – the customers need to know it's available! If you search the various social media channels you will see there has been a huge rise in activity from brewers promoting their draught beer for sale.
The next step is to make the most of the marketing opportunity this package provides. Consumers love innovative and fashionable branding. Beer should be attractive to the eyes as well as to the mouth!
Many smaller breweries have decided to upgrade to custom printed mini kegs and found that this increases sales because they look so good. Consumers love to buy them as gifts for friends and family and some even re-purpose the empty containers for decorative purposes – planters for herbs, door stops, lamp stands.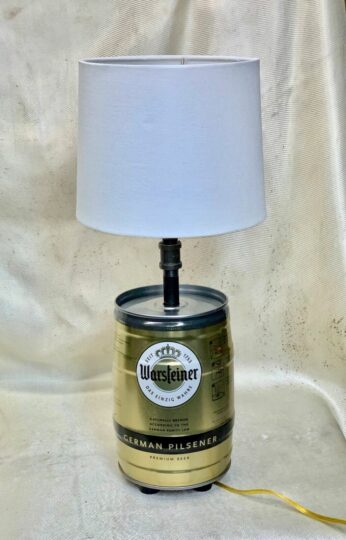 Breweries upgrade to custom printed
Creativity is the key to success. There is no other package that offers such a large area to customize. Wantsum Brewery in Canterbury, Kent has an extensive range of beers all named after people or pivotal events in Kents History.
They decided to custom print 6 brands: 1381– The year of the Peasants Revolt. A golden IPA combining pale and crystal malts with Williamette and Centenial hops to give delicate citrus and herbal aromas., Black Pig– Nickname for the Spanish Armada, whose wreckage was washed up on the coast near Deal after they were sunk by the English fleet and weather. Adapted from an imperial Russian porter recipe, this beer is incredibly smooth with burnt chocolate and smoky malt notes mixed with delicate hop bitterness and floral notes., Dynamo– Named to commemorate the 70th anniversary of the Dunkirk evacuation, launched from these very Kentish shores. A crisp, light golden ale, fruity and floral with an orange citrus twist., Fortitude– The name of the plan to deceive Hitler that the allies were going to invade Pas de Calais instead of Normandy. Wantsum's Flagship bitter first brewed in 2009. This Best Bitter combines four types of malts to give depth of body, with English and American hops for a pronounced hop finish., Montgomery– Amber best bitter exploding with citrus aromas and using exclusively American hops. Named after the SS Richard Montgomery which sank off Sheerness during WW2 whilst full of explosives and the Coastguard monitor the wreck even now. National champion 2017 for Best Bitter and SIBA SE region gold winner 2016 for Best Bitters. and 'Generic' – for all other beers yet to be fully custom printed!
Every mini keg has a story to tell and this adds to the collectability and appeal for gift purchases
Another craft brewery that invested in custom printed mini kegs is The Grainstore Brewery Founded in 1995, Grainstore brews traditional British ales and has launched a 'Real Ale Club' for members to subscribe to:
'Brewery fresh real ale delivered to your door or available to collect from the brewery tap each week or month in 5 litre (8-9 pint) mini cask. Our mini casks are the perfect package for keeping your beer fresh and are fully recyclable to boot.'
Like many real ale breweries in the UK, Grainstore chooses to call the package a 'mini cask' to reflect the fact it is filled with 'cask' beer and not 'keg' beer.
You can choose your favourite brand or have the 'brew of the month' delivered. Grainstore also supplies Cider in their mini casks.
Bishop Nick Brewery, a brewery in Braintree, Essex with a very interesting history has been stocking neutral mini casks for the last few years and decided it was time to brand them up. Nelion Ridley says:
'We love our new look minicasks.  These little fellas have been so popular during lock down that we found ourselves ordering them way more frequently and could justify getting them branded.  And we're so glad we did.  They look brilliant.  All our core beers available in minicask, check the web shop.  They are perfect for BBQ's and for taking to friends for a get together.  Filled with live beer, they just need to settle for a few hours to ensure a clear pint.  So much nicer to serve than from a bottle and plenty to go round unless you have a thirst on!  A mere snip at £20.  They have a good 6 week shelf life once they leave us and once opened need to be consumed in 2-3 days.  Keep cool and steady.
Then when you're done, fill them with sand and use them as a door stop!'
Considering custom printed mini kegs for your beverage? If you would like to know more, please contact Jayne or Terry at European Malt Company Ltd.